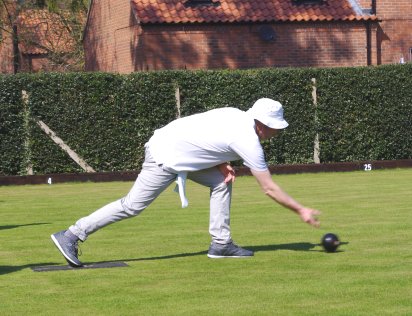 Welcome to Heckington Bowls Club… Renowned for it's friendly, community spirit, Heckington is the perfect place to play lawn bowls. Formed in 1922, Heckington Bowls Club has its own club room and a busy sporting & social calendar. So whether you're an experienced player, would like to learn, prefer watching or just want to make new friends, the club has something for you.
Club News Headlines
Christmas Quiz December 17th 2021
Membership Fees.
Membership Fees for 2021 have been set at £45.00 per person. The Membership Fees are due from May 1st payable to our honourable treasurer Anne Clayton or can be handed in at the bowls club when bowling commences.For additional informtion please email anne@heckingtonbowlsclub.co.uk
Members Open Day.
The bowling green will be open from 2.00pm on Saturday 23rd April.
New Members Open Day.
On Saturday 7th May, we are hoping to open up the green to New Bowlers. We will be offering hourly slots of 11.00-1200. 12.15-13.15 and 13.30-14.30. If there is anyone you know who is wishing to have a go, please book with John. 
Bowling plans for the season.
We intend to run our normal Club Championship Competitions from June through to the end of August. These are our Men's and Ladies Singles Championships. Novices Singles Championship. Chosen Pairs Championship and a new Mixed Pairs Championship.  Entry Forms will be available to all members on and after our opening day.
Mini League's Bowling.
We have decided to organise the following Mini Leagues for our new and existing bowlers on a weekly basis. Fixture Lists will be made available to all participants.
Monday Afternoon will be a 4 Wood Mini Pairs League.
Wednesday Afternoon will be a 3 Wood Mini Pairs League.
Friday Afternoon will be slightly different and we will have an open Pairs event, with 3 set of 4 ends, rinks and bowling positions will be drawn before each set. Keep your own score card. Weekly Prizes for each winner.
Saturday Mornings will be an open singles draw bowling guidelines the same as Friday Afternoon. Plus help will be given to anyone requiring coaching guidance.
Plans to put in place a Masons type Pairs all-day competition, with our members or local bowlers if as anticipated restrictions are lifted, Friendly matches and Social Events will also be considered.
The bowling green will be open (weather permitting) from Noon each weekday and 10.00 am on Saturday Morning.
All of our plans are subject to the current government Covid guidelines and may change at any time.
Newsletter to Members March 2021
On behalf of everyone at Heckington Bowling Club, we hope that the lock-down has not been too arduous for you all.
With the days getting longer, bowlers will be look forward to sunny afternoons and warm evenings to play our sport. With the possibility of restrictions being eased, we at the bowls club would like to inform you what's been happening during the winter and outline what we can offer our members for the season ahead.
We have cut back the overhanging growth of vegetation making the access at the side of the Chapel easier. The privet hedge between the two sets of gates has been removed opening up our main access point. Once the roots have been removed we intend to lay either paving stones or pebbles making the journey into the bowls club easier. We have been in discussion with our landlords for quite a while regarding using the piece of wasteland behind our huge hedge (where we place our seating) and incorporate it into our lease. Currently we are waiting for both parties to sort out a possible agreement or a compromise to come into fruition.
I am pleased to inform you all that we have installed a brand new wooden shed which will house all of our mechanical equipment. Also, we looked at the possibly of installing an electrical feed into our clubhouse. But, the electrical company are looking at a sum which is far beyond our budget, so that has been put on hold. However, we intend to purchase a new petrol generator which will be more economical to us and not so noisy. Quotes to rewire the whole of the clubhouse are now in and we hope to get this done before the start of the season.
On the playing side, last year we provided a bit of bowls for those who wanted it, but, we could not have done much more due to the pandemic.
Currently the Lincolnshire Bowling Association have made it quite clear that there will be no County Competitions during 2021. Our local leagues, Sleaford, Coningsby and Woodhall Spa have not yet indicated that they will operate at all this year, but there is still time for them to organise some sort of fixture list.
At Heckington, it is our intention to hold five Club Championship Competitions (Men's, Ladies and Novice Championships) as well as the Chosen Pairs and the new Mixed Pairs Championships during mid to late season. Ideas are also in the planning stage to create a new Pairs Competition run on a league basis. We aim to provide as much structured bowls as we possibly can.
The two Mason's all day tournaments look likely to be cancelled this year but, we are looking at having our own tournament for all players and friends. It is intended to be a fun event and will be run over an extended late morning and afternoon. More details later.
We may also be in a position organise some low key friendly matches to provide team bowling.
All of this is of course subjective planning which if the situation gets better we can achieve. We fully intend to operate under the guidelines set out by the Government and local advisories. Hopefully things will ease and we can have a season this year.
This is as much information we can provide at this moment in time. We intend to keep in touch with further developments once agreed by the committee and provide more details when they are available.
The Heckington Bowls Club website is maintained by volunteers. If you'd like to help with content, photography, news or you have a comment or suggestion, please contact Patricia Mellett-Brown:- totomellett@hotmail.com