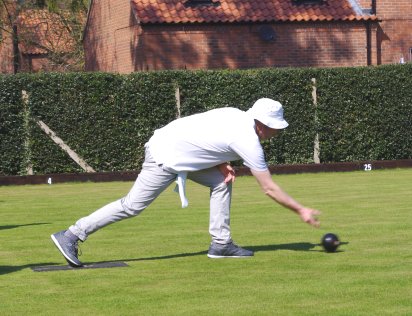 Welcome to Heckington Bowls Club… Renowned for it's friendly, community spirit, Heckington is the perfect place to play lawn bowls. Formed in 1922, Heckington Bowls Club has its own club room and a busy sporting & social calendar. So whether you're an experienced player, would like to learn, prefer watching or just want to make new friends, the club has something for you.
Club News Headlines
Green Maintenance: Thursday 20th August
Dave (The Green) would like some help please on Thursday (20th August) at the green, if anyone is free. Please bring a barrow! (NOTE the change of day, due to the weather – time to also be confirmed).
Green Closes for The Season
Please note that the green will be closed from Thursday, 13th August.
Dave Marriott
HECKINGTON & DISTRICT BOWLS CLUB
21st May 2020. It has been decided by the Committee to partially open the bowls club along the lines stated in the latest update from the English Bowls Federation (E.B.F.). The update can be found on the Website. It is recommend that you read it through so as to become familiar with the reasoning and the instructions that each member needs to follow in order to bowl and use the facilities in a safe manner. 
Anyone deviating from the instructions below, for whatever reason, will be putting themselves and others at risk of catching this terrible disease.
Most members, including myself are of an age where it, the virus, does the most damage. I would like to play bowls next season as I am sure you do as well.
There is a poster expressing in pictures what needs to be done. Below are instructions fleshing things out.
All rinks MUST be booked through the secretary John Stevenson by phoning 07827 925233.
There will be a maximum of SIX people on the green at any one time; people will play singles or be having a 'Role Up' by themselves, on alternate rinks, e.g. 1, 3, 5. There will be NO spectators allowed.
The CLUBHOUSE IS CLOSED, AS ARE THE TOILETS, so be prepared before you come. 
Sanitizer is provided so that you can wash your hands before and after playing. 
Mats and jacks, will be provided, that is all. These will be on the outside table. They will stay outside on the table ready for use, permanently.
The equipment used should be cleaned with the cleaner provided. They/It can be hosed down after cleaning, with the hose provided. This will prevent the green being burnt by any retained bleach as well as cleaning the mats etc.
The membership fee this year will be £25 which should be paid to Anne. You can make arrangements with her to pay by ringing on 01529 460516.
There will be no rink fees.
Please be safe, and maintain the social distancing. I know it is all very restrictive, and requires discipline to keep things clean and safe. But at least it is a start.
KEEP YOURSELVES AND OTHERS SAFE.
THE COMMITTEE.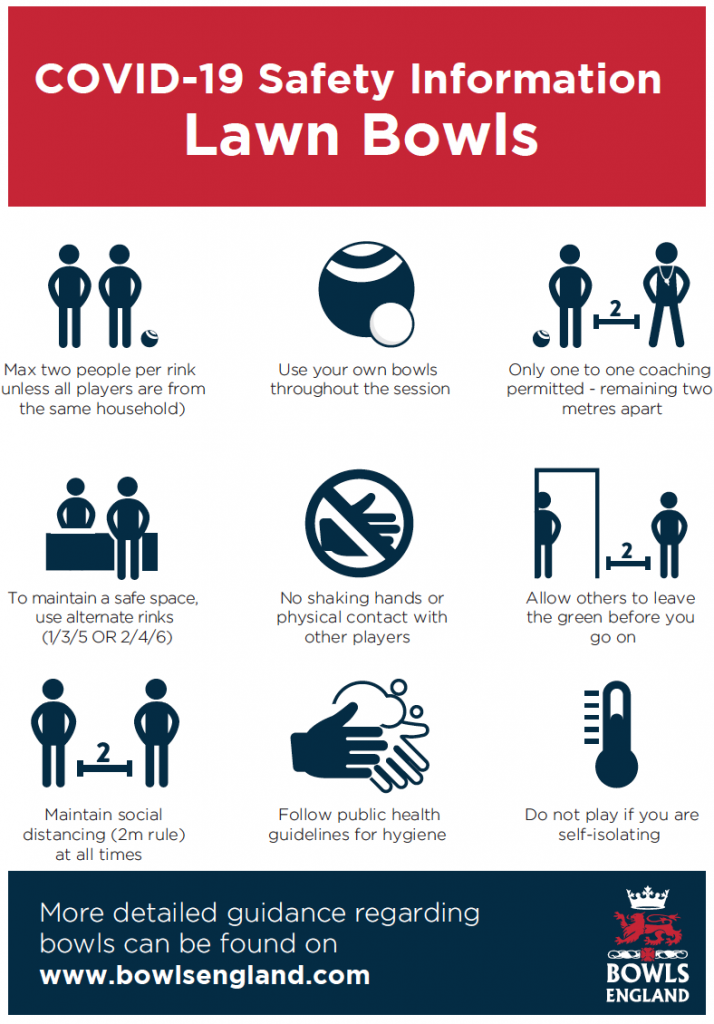 Please read the full guidance from Bowls England, using the link below.
Bowls England – Covid_19_Club_Guidance_140520_FINAL-2.pdf
THE GREEN WILL BE RE-OPENING ON MONDAY, 1st JUNE
The Green will be opening on Monday, 1st June 2020 at 2pm. All games will need to be booked with our Secretary. There will be a newsletter sent to all our members with more details, with a copy placed on the notice board.
Please note that must be strictly no spectators. We will be following the advice issued by the EBF, which is reproduced below for members' information:-
E.B.F. update on Outdoor Bowling.
Following Boris Johnson's announcement on Sunday:
The Department for Culture, Media and Sport (D.C.M.S) have now released instructions on when Bowling Clubs may re-open. Bowling green's can now re-open from today Wednesday 13th May, You should only partake in such activities alone, with members of your household, or with one other person from outside your household, while practising social distancing. Competitions and competitive bowling will not be allowed at the present time. Clubhouses should remain closed and you should take particular care if you need to use any inside facilities. (E.g. Toilets).
Clubs should take all the necessary steps in order to facilitate their Club re-opening; some players are clearly keen to get back on the greens. It will be for individuals and Clubs to determine when they are ready to start bowling again. Inside facilities such as toilets should be cleaned more frequently, paying close attention to high-contact objects e.g. door handles. Employers should provide hand washing facilities or hand sanitisers at entry and exit points and on the greens.
Equipment must be placed outside for members to use and cleaned with sanitisers and disinfectants. There will be no facilities for changing.
The following instructions should be followed.
1. If you are showing corona virus symptoms, or if you or any of your household are self-isolating, you should stay at home –and not play bowls, this is critical to staying safe and saving lives.
2. At all times, you should continue to observe social distancing guidelines when on Club Premises, including ensuring you are 2 metres away from anyone outside your household.
3. People will only be able to use these facilities, either by themselves, with people from their own household or with one other person who stays in another household.
4. Only singles games can be played unless all persons are from the same household.
5. The advice for those aged 70 and over continues to be that they should take particular care to minimise contact with others outside their household. If bowling they should be careful to maintain distance from others unfortunately, we know that as you get older, there is a higher risk of corona virus having a more serious impact with infection. Complications and deaths are more common in the elderly, even those without pre-existing conditions.
Dave Woods
E.B.F. National Secretary.
The Heckington Bowls Club website is maintained by volunteers. If you'd like to help with content, photography, news or you have a comment or suggestion, please contact Patricia Mellett-Brown:- totomellett@hotmail.com